Product
OnPoint DAS
Elevate your audit practice with a transformative, data-driven methodology that recognizes and mitigates modern accounting firms' biggest challenges.
Request a demo
Transforming audits for modern, progressive practices
OnPoint DAS, brought to you by Caseware in partnership with AICPA and CPA.com, has been developed in collaboration with leading audit practitioners from the Top 100 firms. This end-to-end, fully integrated app is embedded with a brand new, transformative audit methodology guided by AICPA's proven professional expertise, AI-powered analytics, real-time client collaboration and automation.
Built on the Caseware Cloud platform, DAS supports auditors in enhancing audit efficiency and effectiveness, allowing them to deliver deeper insights to their clients.
Features
Embedded AICPA data-driven audit methodology
Our new transformative methodology uses data, embedded knowledge and advanced technologies to guide the auditor toward an insights-driven approach that boosts quality and delivers efficiency. And seamless data ingestion drives enhanced preliminary analytics, resulting in more valuable audit evidence.
Built-in advanced analytics
Powered by artificial intelligence and machine learning, the embedded analytics within the app help identify the right risks, provide suggestions for risk responses as the audit engagement progresses, and modify suggested procedures as the audit is carried out, informing auditor judgment in real time.
Intelligent, guided workflow
DAS enables you to improve user knowledge and drive consistency of information throughout the engagement. The guided process tailors questions and procedures dynamically based on responses throughout the engagement.
Real-time collaboration modules
Take advantage of the built-in capabilities for seamless communication within the audit team as well as with clients. Powered by Caseware Cloud, firms can streamline, centralize and track document requests and client communications for audit work.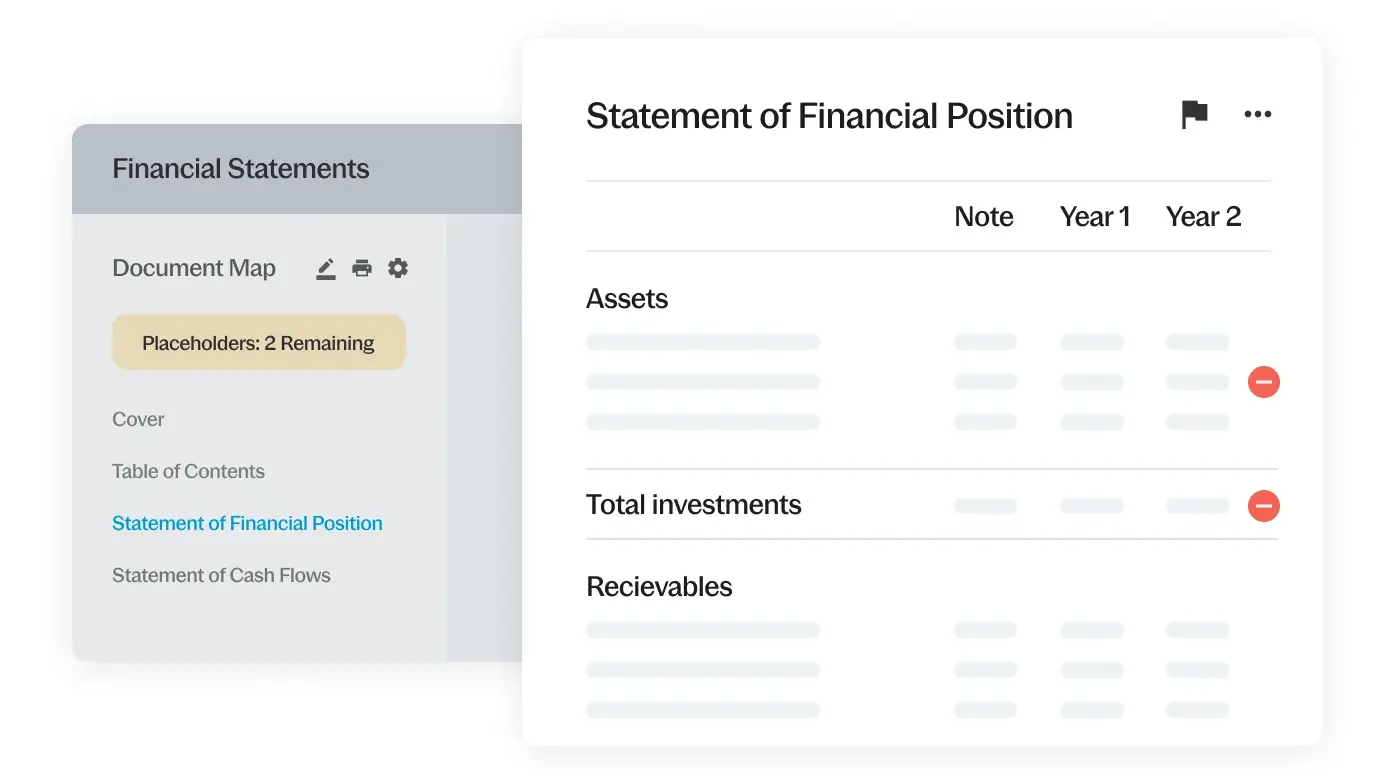 Automated drafting of financial statements and notes disclosures
Automatic data mapping and flow to the embedded financial statements with real-time updates helps create high-quality statement drafts with minimal effort. The built-in smart review tools and extensive notification system assist in alerting the partner of changes made to financial statements, checklists and letters in real time.
Benefits
Integrate your entire audit in one software
Bring all aspects of your audit process together in one smart app. DAS helps eliminate the need to purchase and manage individual tools for different parts of the workflow, which can otherwise be a very dissatisfying experience for the engagement team.
Boost efficiency and consistency levels
With built-in intelligent, guided workflows, smart review tools, risk libraries and automated drafting of financial statements, the risk of errors is greatly reduced. Now focus your valuable time on areas that matter most and deliver consistent, high-quality audit experiences to clients.
Improve risk assessment
DAS has built-in, integrated analytics that test 100 percent of the data. This lets auditors identify and respond to relevant risks through every stage of the audit – starting with understanding the entity and its environment, through risk assessment and response, to formulating audit conclusions.
Create more value for clients
Deliver a superior experience for the clients with seamless communication using the built-in client collaboration module. DAS also enables firms to present their clients with richer insights and opens new avenues for advisory services — ultimately resulting in improved business decisions.
Amplify talent attraction and retention
Train a new staff member or upskill your team with ease with this intelligent, tech-enabled cloud app. DAS reduces manual, repetitive tasks and lets teams focus on driving higher-quality audits, elevating their value to clients and boosting retention rates.
Supporting components
Get the most out of your Caseware audit experience
Leverage these supporting components to maximize the capabilities of OnPoint DAS.
Cloud Connector

arrow_forward

Provide real-time data linkage between your engagement and MS Excel to access trial balance data and other properties.

CloudBridge

arrow_forward

CloudBridge is a powerful software utility that lets users transfer data seamlessly from Working Papers applications to cloud engagements. The easy-to-use interface and robust features simplify the process and provide organizations with a reliable solution for managing their data with confidence.
Find the answers you need
OnPoint DAS is a transformative audit app that supports CPA firms in delivering deeper insights to clients by enhancing the efficiency and effectiveness of the audit. Some of the key features of OnPoint DAS include the end-to-end, all-in-one solution, improved risk assessment and built-in analytics.
Caseware, CPA.com and the AICPA have together developed a breadth of live and self-study CPE learning courses to support firms on their audit transformation journey. We also offer migration and implementation services, leveraging an effective five-step framework to help firms achieve positive, successful outcomes. Contact us to learn more.