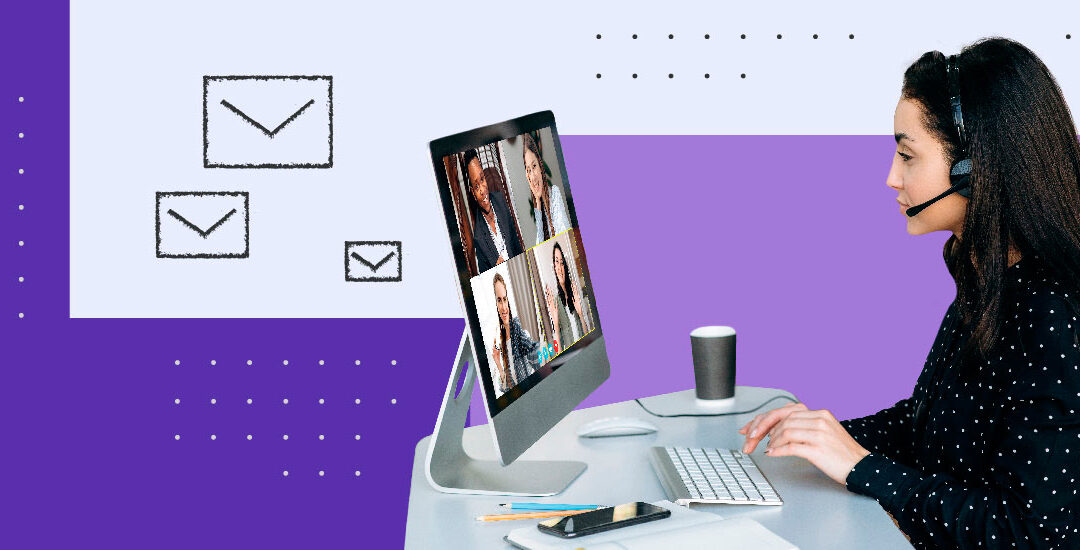 Blog
Seven Collaboration Techniques for a Successful Remote Accounting Firm
Learn how to implement these tactics and reap the benefits of collaborative work.
However you feel about it, remote working is becoming the new normal across many industries. The accounting sector is no exception. With 16 percent of U.S. companies now operating totally remotely and countless more adopting hybrid systems, the trend is only set to grow.
Remote teams can bring multiple benefits to organizations, from accessing top worldwide talent to reduced costs. In accounting and finance, 78 percent of professionals agreed that remote working during the pandemic resulted in greater productivity.
However, transitioning to remote work systems does bring multiple challenges to accounting firms, from the security risks of handling sensitive data to motivation issues. One of the most significant hurdles is communication and collaboration. Seamless collaboration among team members, clients and partners is not just a nice-to-have. It is vital for delivering accurate financial insights and ensuring compliance with ever-evolving regulations.
So, if you are struggling to establish successful remote collaboration techniques in your accounting firm, read on to learn seven simple solutions you can implement today.
Why collaboration in remote accounting firms is key
Audits and accounting engagements involve input from various individuals, from clients providing data to groups collaborating on documents. Therefore, implementing effective collaboration strategies is vital if you want your remote accounting teams to flourish.
Cross-team collaboration ensures financial data is accurately processed, analyzed and reported, and that the data is in compliance with accounting regulations. As many team members and client contacts may need to add, access and edit the same data and documents, collaborative tools are necessary to avoid loss of data, mistakes and version control issues. One of the top benefits of collaboration in accounting is saving time. Instead of wasting time on long email chains, miscommunications and chasing documents, professionals gain back hours to focus on high-level tasks.
Collaboration tools are also key to ensuring a smooth and transparent client experience. Updates and delays must be communicated with regularity and in the easiest way possible. Finally, tools that foster collaboration across different departments encourage a sense of shared purpose among entire teams. Not only does this improve employee satisfaction and productivity, but it helps workers reach team goals and creates a positive company culture.
Seven collaboration techniques for remote accounting firms
Here are seven simple ways you can create a culture of strong collaboration in your accounting firm.
1. Establish common goals and expectations
If you are wondering how to increase collaboration between teams, establishing common goals can help. Instead of working in silos, align individual and team objectives with the overarching goals of the firm. When everyone understands their shared purpose and has clear expectations, collaboration becomes a natural outcome.
2. Promote a positive collaborative environment
Establishing an environment that encourages open communication can be tricky, but it will reward firms with enhanced productivity and teamwork, as well as a higher quality of work. Encourage open communication, active listening and the sharing of ideas.
Some strategies for creating a positive collaborative environment include:
Setting up instant, open communication tools and channels, such as Slack
Creating dedicated sessions for brainstorming
Leading by example to encourage open and effective communication
3. Employ a cloud-based file-sharing tool
Cloud-based file sharing is a game changer in accounting engagements. Instead of drowning in multiple outdated versions of the same document and waiting on others to make edits, collaborate on documents in real time. With a single, up-to-date version of your document, you save hours of potential confusion and avoid costly errors. You can even work at the same time as others. For example, with Caseware's simultaneous working capabilities, you don't even have to wait for others to save changes or exit the document.
4. Design team-building activities
Virtual team-building activities are an excellent way to foster a sense of unity among remote team members. This helps to build trust, camaraderie, productivity and motivation, which in turn boosts teams' collaboration skills.
Effective activities for building collaborative teams include:
Virtual team-building sessions
Breakroom sessions where members can join over lunch or breaks
Team- or company-wide update meetings
Online chat threads for good news, daily questions or bonding
One-on-one chats among randomly assigned team members
5. Celebrate milestones and accomplishments
Accounting engagements can take months to complete. In order to break up the process and boost team morale, celebrating smaller milestones collectively is an effective way to bring teams together. Project management tools — along with providing multiple other benefits — can help define project milestones in advance. That way, once the team reaches a milestone, everyone is notified. You may choose to offer incentives or rewards, such as time off or a virtual party.
6. Foster cross-department communication
When individuals work across different departments, what helps bring collaborators together? Ensure everyone has access to the same information and a high-level overview of goals. This is helpful in creating a united vision to boost collaboration. You could share project details manually at the start of an engagement or use digital tools to enable instantaneous data-sharing throughout the project.
7. Implement collaboration software
Specialized accounting software with collaboration capabilities is revolutionizing the way remote teams work. Software like Caseware integrates collaboration tools for remote teams.
Find all the top collaboration techniques in one platform to help your team succeed:
Centralize communications all in one place
Share information instantaneously across teams and departments
Easily plan projects and create goals and milestones
Collaborate on documents in real-time on a collaboration platform
Collaborate with clients, manage Prepared By Client (PBC) requests and create a smooth customer journey
Contribute to the success of your remote accounting firm
Don't wait to implement effective collaboration strategies. The earlier you instill an environment of collaboration, the quicker collaborative efforts will become second nature and the more successful your firm will be. As accounting firms continue to shift toward remote and hybrid work models, seamless collaboration is vital to provide fast and accurate results for clients. 
Firms must adopt the latest strategies for productivity, communication and security, or they risk falling behind the competition. Leveraging technology for successful team collaboration is the most effective way to grow your accounting firm in today's financial landscape.
Check out Caseware's accounting software, and learn how to collaborate with team members and clients with ease.