Product
Audit International
Take your auditing to new levels of success with a data-driven approach
Request a demo
Deliver high-quality audits with seamless integrations
Audit International is a comprehensive, pure cloud-based app. It dynamically integrates intelligent content that leverages risk identification and assessment to enhance audit execution.
Through streamlined communication, automated operations and efficient and secure collaboration, Audit International simplifies the process of performing audit engagements while enriching the auditor's experience.
Features
Intelligent content that simplifies the auditing process and saves time
With a guided workflow, Audit International is intuitively designed to anticipate your requirements and tailor worksheets, checklists and letters.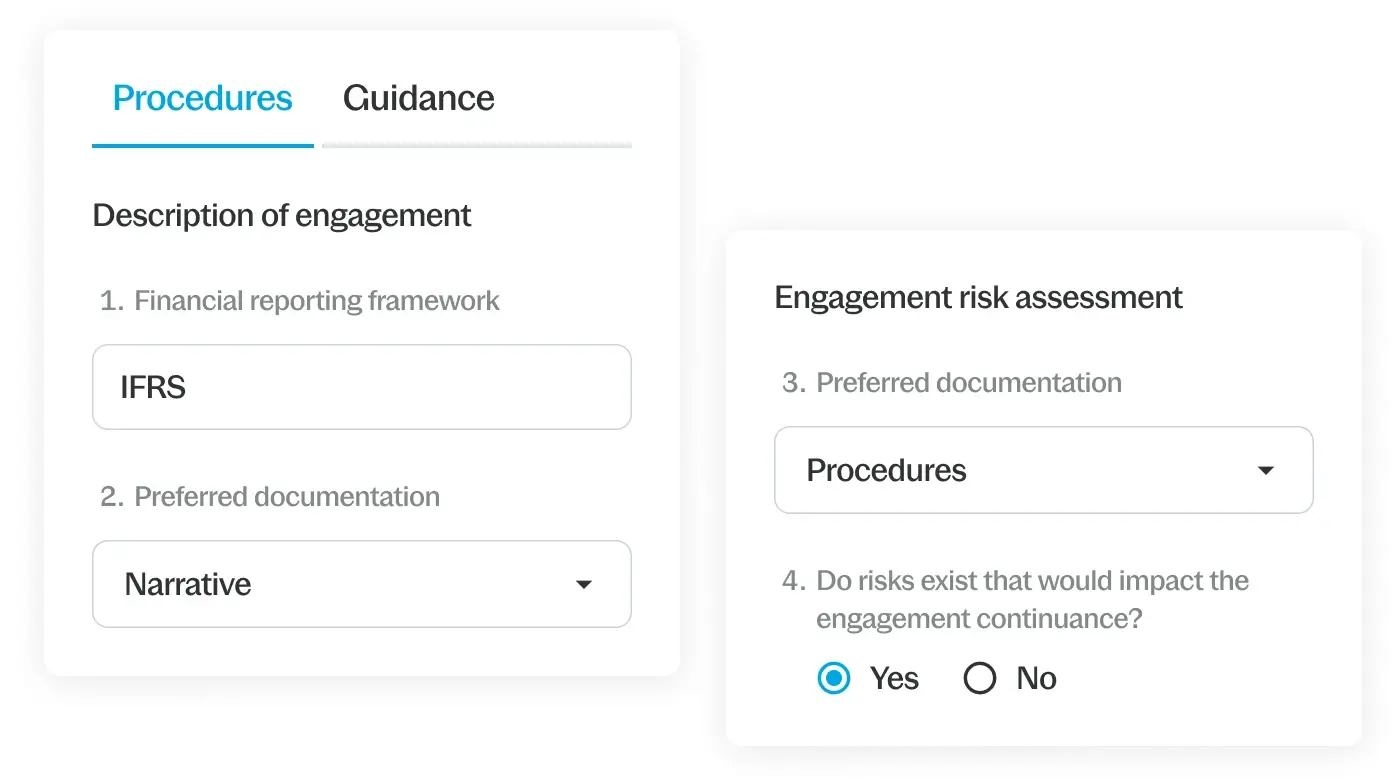 Embedded guidance based on today's leading standards
Audit International adheres to International Standards on Auditing (ISA), and Caseware's practice aids are designed to help practitioners perform high-quality, cost effective audit engagements. The content provides non-authoritative guidance on applying ISAs issued by the IAASB.
Real-time collaboration that sets your team up for success
Audit International's innovative model allows multiple users to work with the same engagement document simultaneously, with updates refreshed in real time from any device, anywhere in the world.
Built-in analytics and diagnostics to provide a comprehensive audit picture
Take advantage of automated calculations of key financial analytical ratios and perform journal entry testing on transactional data in minutes.
Benefits
Streamline your workflow
Start with a straightforward audit strategy document in which relevant content is pre-populated with your clients' responses to tailored questions.
Safeguard your information
Work confidently, knowing your data is safe from digital threats and attacks. Built with multiple layers of encryption in a cloud ecosystem.
Boost efficiency
Centralize your audit work with engagement management, built-in e-signature support and trial balance capabilities.
Eliminate data inconsistencies
Say goodbye to the time-consuming, error-prone methods of acquiring client financial data. With seamless imports, data flows through the entire engagement seamlessly.
Audit with confidence
Built-in guidance gives you practical information and guides your documentation in accordance with the professional standards.  
Avoid unnecessary time pressures
Deliver high-quality audits faster with built-in automation, analytics, client collaboration and review tools that decrease the risk of errors and time delays.
Supporting components
Market-leading tools to help you get the most out of Audit International
Gain data-driven insights by linking your real-time data to other apps using a cloud connector.
Caseware Cloud Connector

arrow_forward

Link trial balance and other engagement and entity data between your Caseware Cloud app and Microsoft 365 Excel in real time.

Cloudbridge

arrow_forward

Enables seamless data transfer from Caseware Working Papers to a cloud engagement. A sleek interface and robust features simplify the process and provide firms with the necessary tools to transfer data and make the transition to the cloud smooth and seamless.
Find the answers you need
With the use of the global app, Audit International follows International Standards of Auditing (ISA).  Audit International contains useful practice aids that can save time and money while ensuring efficiency, effectiveness, completeness and consistency.
With the ability to use real-time collaboration capabilities in Caseware Cloud, your team can communicate securely on a single platform, eliminating the need for multiple email threads or separate chat channels. In addition, the team members can also work simultaneously on the same engagement file from anywhere, anytime reducing the effort wasted in maintaining different file versions.
Audit International is available globally for firms that have audit engagements which follow the International Standards on Auditing (ISA). Leading firms in Europe, Latin American, the Caribbean and Asia use and trust the Audit International app.