Product
OnPoint PCR
Make the move to smart Preparation, Compilation and Review software to drive maximum efficiency
Request a demo
An intelligent approach to PCR
Increasing efficiency is critical for accountants who want to work smarter, streamline their workflows and avoid burnout from performing repetitive tasks for clients' PCR engagements. The time has come for an intelligent, automated PCR solution that provides the critical information needed to make smarter, more informed decisions.
OnPoint PCR software is an advanced assurance solution that helps firms maximize efficiency and remain compliant across PCR engagements.
Features
Integrated guided methodology for increased accuracy
Set your firm up for success with guided engagement methodology. Standardized, up-to-date templates intuitively and accurately complete steps and track your advancement throughout each engagement so you never have to stall progress by exiting to research items.
Intelligent content designed to minimize repetitive tasks
Produce the right content at the right time with intelligent checklists, worksheets and letters. Smart content is pre-filled with information provided by the client at the start of each financial statement preparation engagement.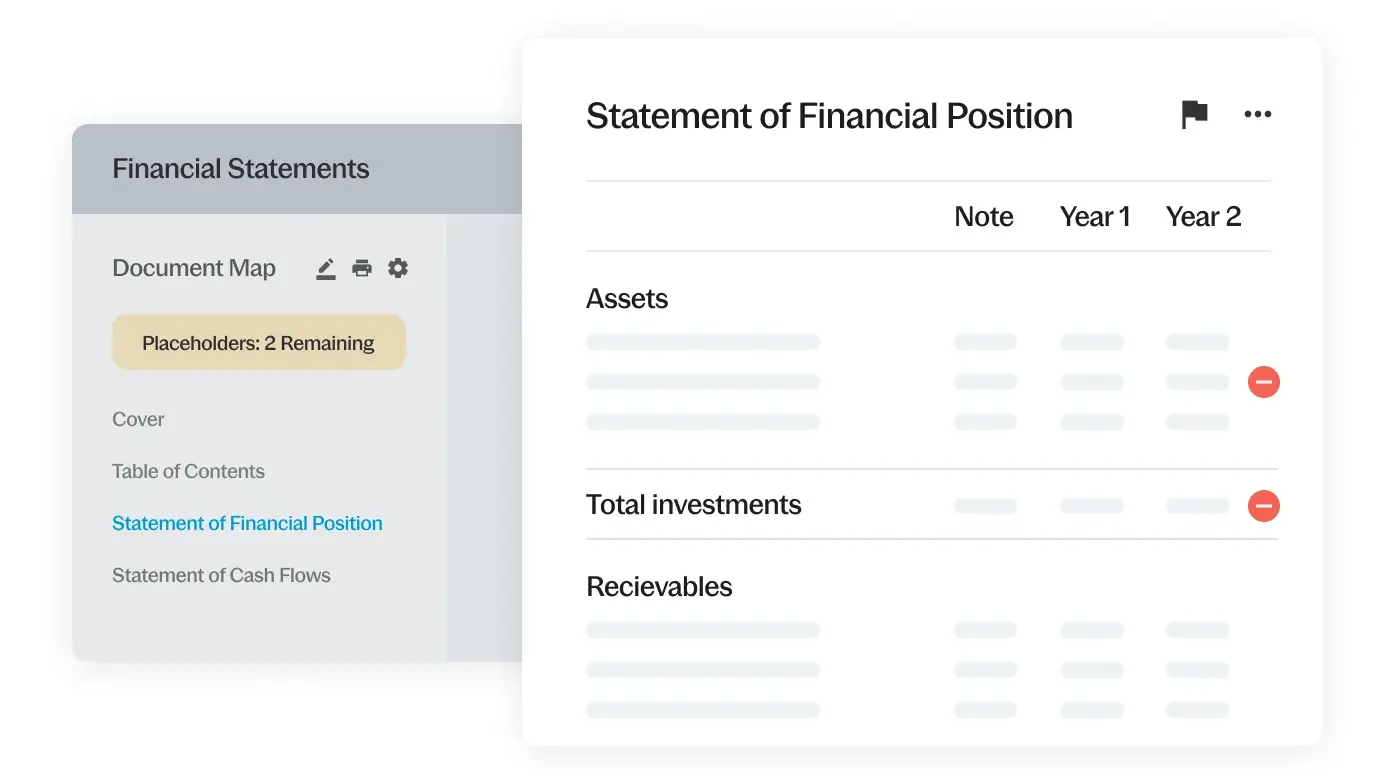 Automated drafting of financial statements and notes
Deliver high quality financial statements that are auto-populated once the trial balance has been imported. Final balances are updated in real time as adjustments occur throughout the PCR engagement.
Real-time engagement collaboration for true teamwork
Facilitate successful teamwork with real-time engagement collaboration, shared PCR insights and document updates for your users. Each team member can execute tasks independently and seamlessly without waiting for others to exit the document.
Review tools and alerts
Take advantage of review tools for checklists and financial statements with built-in analytics and alerts that run diagnostics within your engagements and avoid pending issues while ensuring you don't miss anything.
Benefits
Comply with confidence
Guarantee your firm is providing accurate information and documentation to comply with professional standards.
Simplify your workflow
Eliminate the time-consuming hassle of editing lengthy checklists by beginning with a simple client acceptance document that personalizes the engagement as you provide the details.
Save time
Produce deliverables in line with professional-quality standards. OnPoint PCR's built-in logic updates the language on letters and reports as you complete work in an engagement. 
Boost efficiency
OnPoint PCR concentrates the many components of PCR work into a centralized platform, including engagement management, linked methodology, PBC document management and trial balance tools. 
Safeguard information
Leveraging Caseware Cloud, you gain access to an ecosystem built for accounting and assurance services. Built-in analytics run diagnostics within your engagements and alert you to potential issues. 
Supporting tools
Get the most out of your OnPoint PCR experience
Leverage these supporting components to maximize the capabilities of OnPoint PCR.
Cloud Connector

arrow_forward

Provide real-time data linkage between your engagement and MS Excel to access trial balance data and other properties.

Cloudbridge

arrow_forward

A powerful software utility that lets users seamlessly transfer data from the Working Papers application to a Cloud PCR engagement.