Product
IDEA
Generate better audit insights with the trusted platform for data analytics
Request a demo
Expand your audit analytics landscape
Data analytics is changing the game for audit, accounting and finance professionals worldwide. When analyzing audit data — whether you're detecting fraud or identifying anomalies, trends and patterns — you need a solution that delivers high-quality results without fail.
Caseware IDEA is a comprehensive, powerful and easy-to-use data analysis software offering designed by audit experts. With a modern, intuitive interface and advanced analytical functionalities, Caseware IDEA accelerates data analytics, provides a user-friendly experience and supplies you with in-depth knowledge in a timely, cost-effective manner.
Features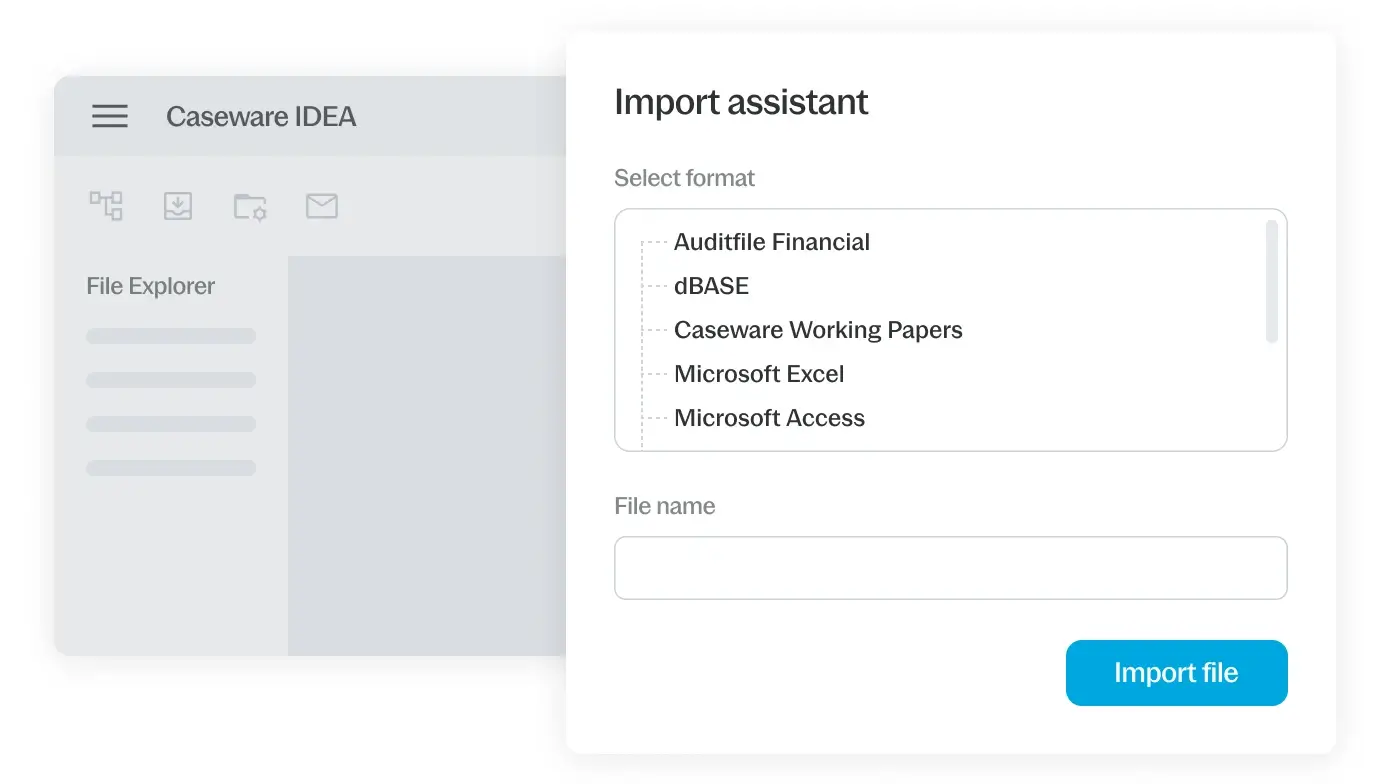 Seamless data imports to add audit efficiency
Import data easily from top sources, including PDF, Excel and CSV. IDEA accounting software also works with 50+ packages (Quickbooks, Sage, Xero, etc.), Caseware Working Papers, Python and more.
Powerful audit analytics for deeper, more informative insights
Boost your view with our all-in-one analytical tool that covers every audit need. Whether you're running a specific test, like sampling, or using built-in automated tests for an entire financial audit, IDEA has you covered.
Comprehensive reporting that gives auditors the full view of what's happening
Visually pinpoint patterns, trends and outliers using interactive dashboards. With seamless integrations, you can export engagement results or third-party applications.
Reliable audit trail that delivers an accurate and reliable record
Master your work with Project Overview. This tool displays every task's status using sleek graphics. Document the project or generate a script quickly to re-run the analytics later.
Benefits
Boost productivity
Automate data analysis using ready-made workflows and simplified navigation to reduce errors. Watch productivity soar as staff focus on more critical work, saving time and money.
Improve risk management
Mitigate risks related to data security and confidentiality with Caseware's unified ecosystem. Harness audit intelligence and machine learning techniques to generate risk-based samples.
Reclaim time and money
Reduce wasted time. Save weeks using IDEA to verify and analyze hundreds of thousands of records in minutes. 
Strengthen collaboration
Improve documentation, reporting and collaboration with colleagues and clients, strengthening the audit process and other engagements.
Bolster data integrity
Analyze all data with full confidence using read-only access to source data. IDEA guarantees the accuracy of audit assessments and disclosures in published financial statements.
Provide an unforgettable customer experience
IDEA's intuitive design prioritizes users. With our software, you receive a wealth of resources to gear teams for success.
Supporting components
Enhance your IDEA experience
Take advantage of these modules to run more tests and generate better insights. These key platform components include features designed to take your usage to the next level:
IDEA Lab

arrow_forward

Offers analytics plug-ins developed by industry experts, with cutting-edge tech and industry-specific functions for various tasks.

SmartAnalyzer

arrow_forward

SmartAnalyzer enhances audit quality with a range of routines that analyze transactions in GL, A/R, inventory, fixed assets and A/P.

Passport

arrow_forward

Caseware IDEA's Passport user portal hosts downloads, tutorials, SmartAnalyzer apps, industry content, custom functions and more.
Boost your reports with these added features
These plug-ins add extra capabilities to your IDEA solution.
Exceptional Exceptions

arrow_forward

Access audit intelligence and machine learning techniques to generate risk-based samples and provide overviews of risk areas. Focus on items posing the biggest threats.

Financials

arrow_forward

Access 100+ smart audit tests for faster, detailed analysis of the general ledger and important sub-ledgers to detect issues effortlessly.

Journal Entry Testing

arrow_forward

Apply over 20 journal entry audit tests and use integrated workflows to conduct audit tests directly and save engagement evidence.

Fuzzy join

arrow_forward

Perform a fuzzy join between two IDEA databases by testing for possible duplicates.

Subset Sampling

arrow_forward

Run a Stratified Random Sample analysis and use the plug-in independently on any data set or as a complement to the Exceptional Exceptions app.

Text Analysis

arrow_forward

Parse and analyze report files, then import results into IDEA to create sentiment analysis, word frequency and word cloud charts.
Take your IDEA solution to the next level
These innovative tools add additional capabilities to IDEA's core functionality.
SmartExporter

arrow_forward

Simplify workflows and diminish wait times with this intuitive extraction tool that pinpoints and exports the precise SAP® data required for analyses.

Cloud Import Utility

arrow_forward

Integrate IDEA with over 90 accounting applications that can fetch information, such as trial balance, with precision and consistency.
You have a tool that is, on the one hand, so powerful and on the other, so intuitive, allowing you to use your imagination. It's a win-win. I use IDEA because it gives you the freedom to think about what you want to do, not how you want to do it, and that's a big differentiator."
Tim Smith – AVP, Internal Audit at LPL Financial